1. Make sure "Samsung Smart Doorlock" App is installed on your mobile.
2. Create an account by assigning a user name and password.
3. Login to the app and follow the steps on how to connect.
4. Press the "+ Let's Start" sign on the mobile app.
5. Choose the lock SHP-A30EN lock from the list of Locks.
6. Press "Continue" if the lock is properly installed and turned on.
7. Create a door lock name then click on "Next".
8. Double check the instruction page ( WiFi and Location Services should be ON. Mobile Data should be OFF for Android users). Then press"ready to connect".
9. Close the door and make sure the door lock is in "LOCKED POSITION".

10. Take the battery cover off.
11. Press the "Reg" button on the door lock for 5 seconds.
12. You will hear "WIFI Registration Has Started" from the door lock. Press "I heard WiFi registration Has Started" on the app to continue.

For iOS users:
Wait until you hear a beep sound then click on "I heard beep" on the app.

13. Go to the WIFI settings of your mobile phone and connect to WIFI network that strats with "Samsung_DoorLock".

14. Go back to the app screen and tap "next".
15. Choose your WIFI network and enter its password.

16. Tap on "next". For Android users, turn mobile data back ON and go back to the connecting screen on the app.

17. Wait until the door lock is successfully added to the App.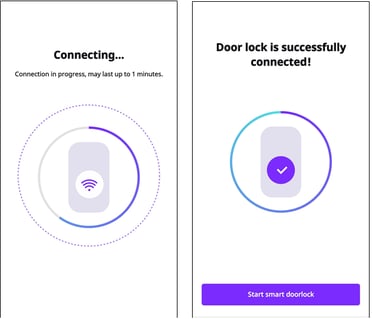 Please click Please click here for the video