Note : If the lock is not connected to the WiFi, this process won't work.
1. Tap on the Device option from the main menu.

2. Tap the lock you want to share with a USER.

3. Select Settings.

4. Choose "Shared User".

5. Tap the "+" sign on the upper right corner of the screen.

6. Press "create invitation code" then enter the name of the invitee.

7. Once the invitation code is created, tap the Share the code through SMS or other platform that you want to use to share it.

*The invitee is required to download and install the app on his mobile phone by clicking on the link provided in the invitation message.

*Tap the "I'm invited" button at the bottom of the screen.

*Enter the invitation code to gain access and be able to control the door lock through the app.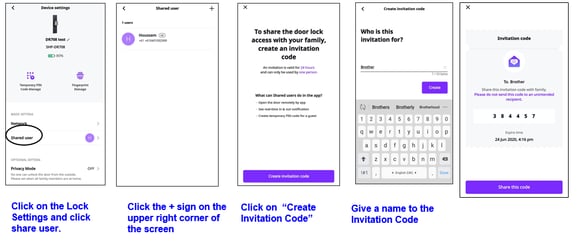 PLEASE CLICK HERE FOR THE VIDEO